Just a reminder that next week, March 27-31, we will be on spring break and there will not be school. School is back in session on Monday, April 3. Hope you have a wonderful spring break.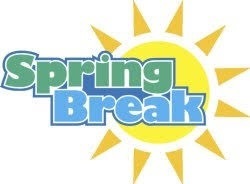 As we get closer to the election, we want to inform everyone how the bond will impact their taxes. To calculate the impact of the bond on your taxes, take the taxable value of your home and multiply it by .0028 to find the annual cost. Be sure to use the taxable value from your Notice of Assessment. I have included the video on how to do this below:
https://www.youtube.com/watch?v=8IV0GFOiXwo


Young Fives and Kindergarten sign-ups for next school year are happening on April 11-13. See the attached flier for more information.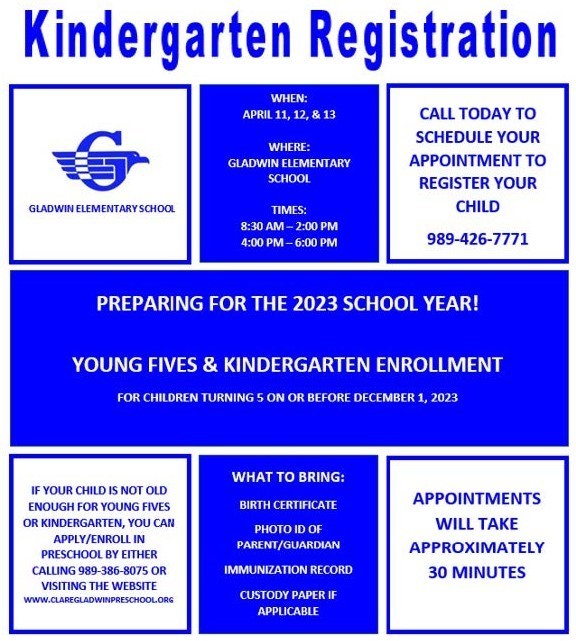 Gladwin Community Schools has an upcoming bond proposal on May 2, 2023, to raise funds to construct a new Junior High School. Information regarding this can be found on the attached flyers. Please reach out to Mr. .Pahl if you have any questions.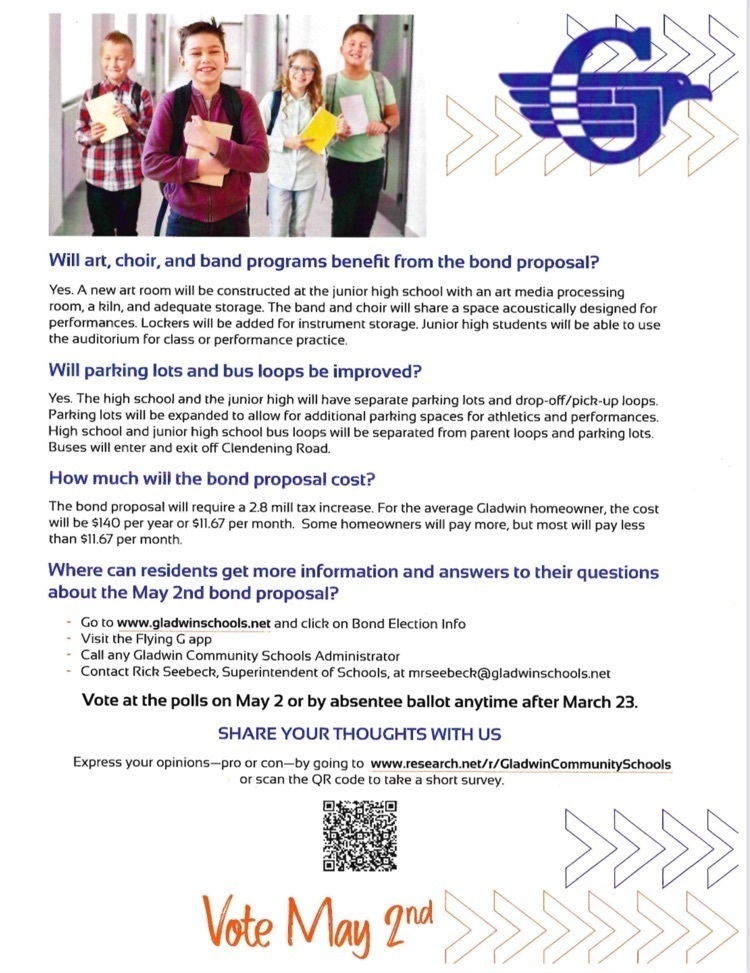 We are very excited about the upcoming bond election on May 2 and would like to share some details with you. The video below does a great job of explaining the proposal. Check it out!
https://www.youtube.com/watch?v=vXDF6TVHMq4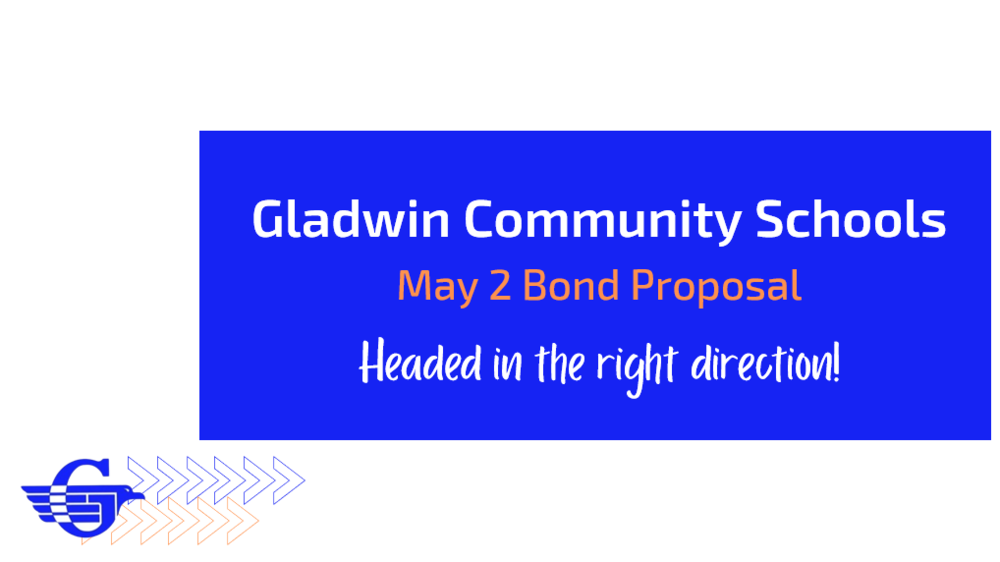 Just a reminder that we have a scheduled day off from school for winter break on Monday, February 13th, so school will be back in session on Tuesday, February 14th. Stay safe and see you next week.

There is a mobile food distribution happening today at the bus garage from 10:00 am to 1 pm. Anyone is welcome to come get food. Please follow the posted signage and stay in your vehicle. Food will be brought to your car by one of the varsity basketball players. Thanks IBEW 692 for helping out the Gladwin Community!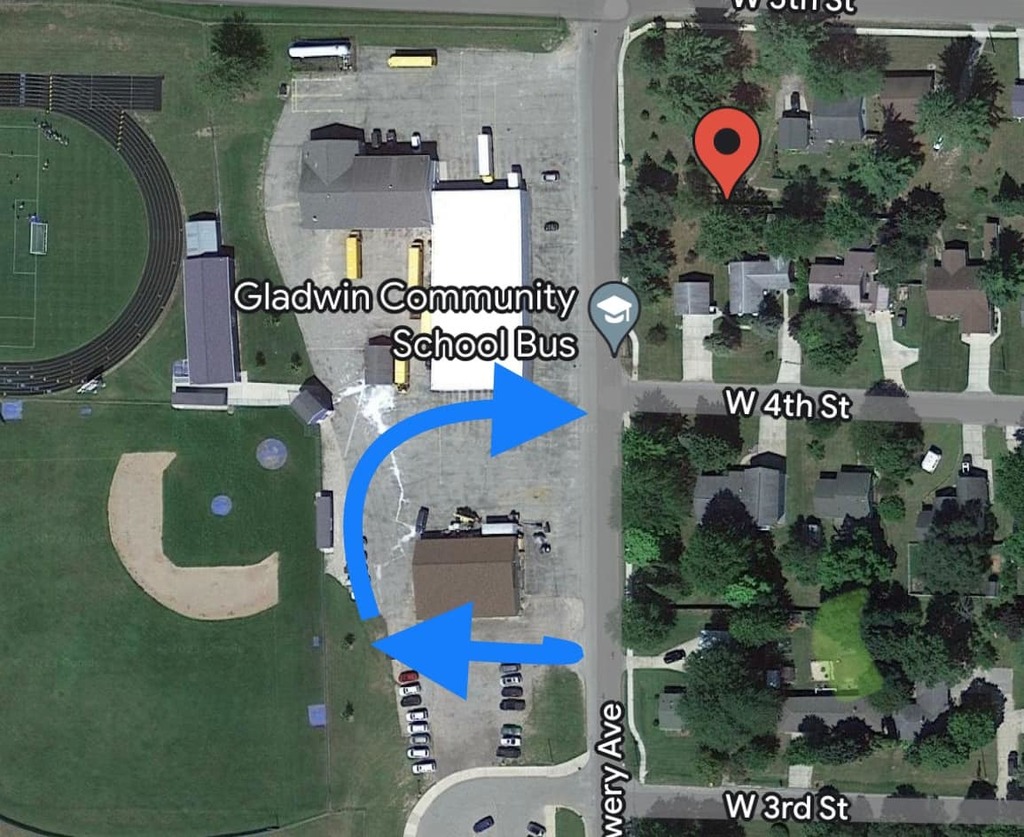 Here is information on the upcoming Daddy Daughter Dance on Saturday, February 18, 2023. If you have any questions, please reach out to Mr. Pahl, Gladwin Elementary School principal, at
mrpahl@gladwinschools.net
.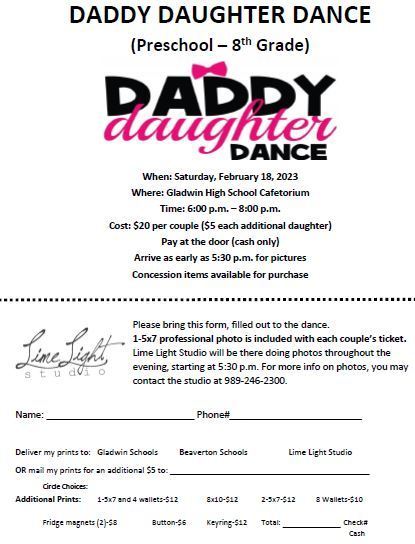 This is a reminder that this coming Monday and Tuesday, January 23 & 24, will be half days of school with dismissal at 12:45 PM. Breakfast and lunch will be served on both days. Teachers will have professional development in the afternoon both days.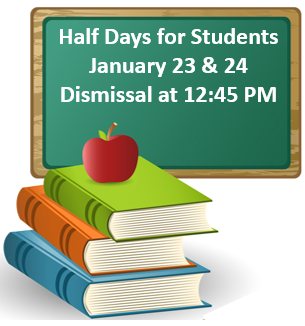 Just a reminder that we are still collecting fundraising envelopes if your child is interested in participating. Please try to have your child return the fundraising envelope by Wednesday (January 18) of next week. Thank you for help.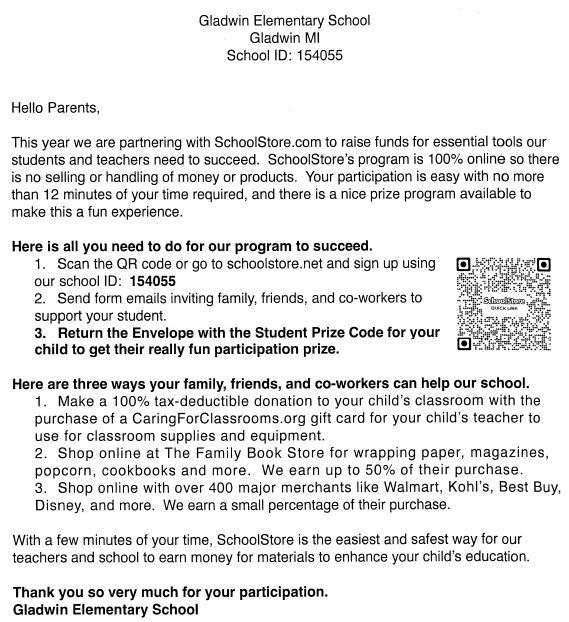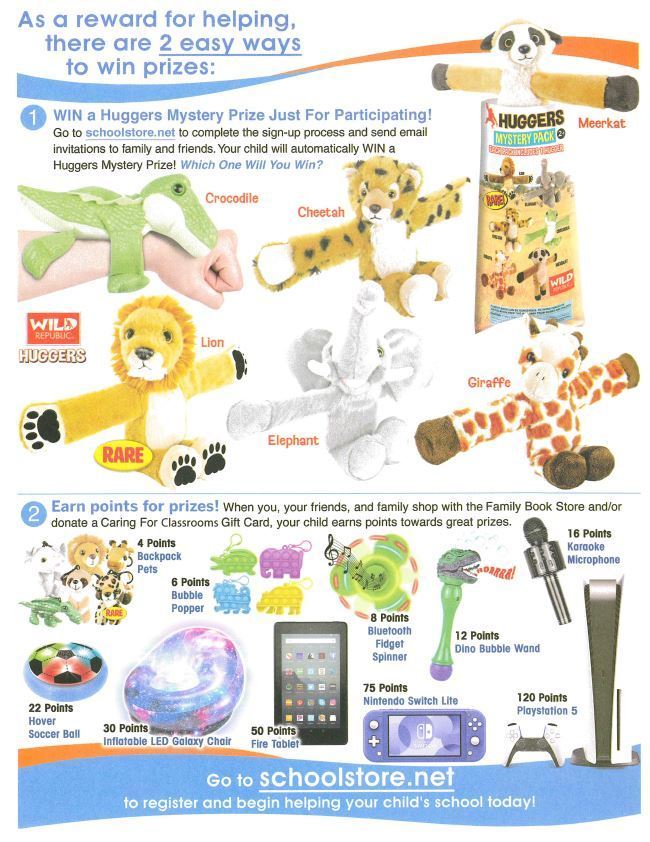 Dress Up Days for next week at the elementary school. Last day of school for students before the holiday break is Monday, December 19th. Christmas Break is December 20-January 3 with no school. School resumes on Wednesday, January 4th.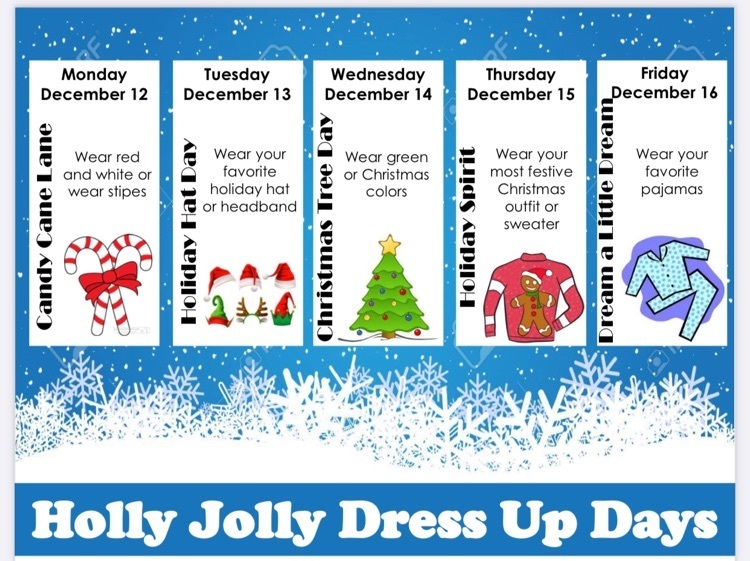 Reminder that Gladwin Elementary School will be having our Holiday Concert this Tuesday, December 6th, at the Gladwin High School gymnasium. Students in Young Fives, Kindergarten, 1st grade, & 2nd grade will be performing. Doors will open at 5:15 PM and the concert will begin at 6:00 PM. We are asking that students sit with their families and when it is time for your child's performance, they will be called down to the gym floor. We look forward to seeing you at the concert.

The Gladwin High School football team is set to play in the state championship game at Ford Field this coming Saturday, November 26, at 4:30 pm. The elementary school will be having a spirit week this week in honor of the team playing in our first ever football championship game.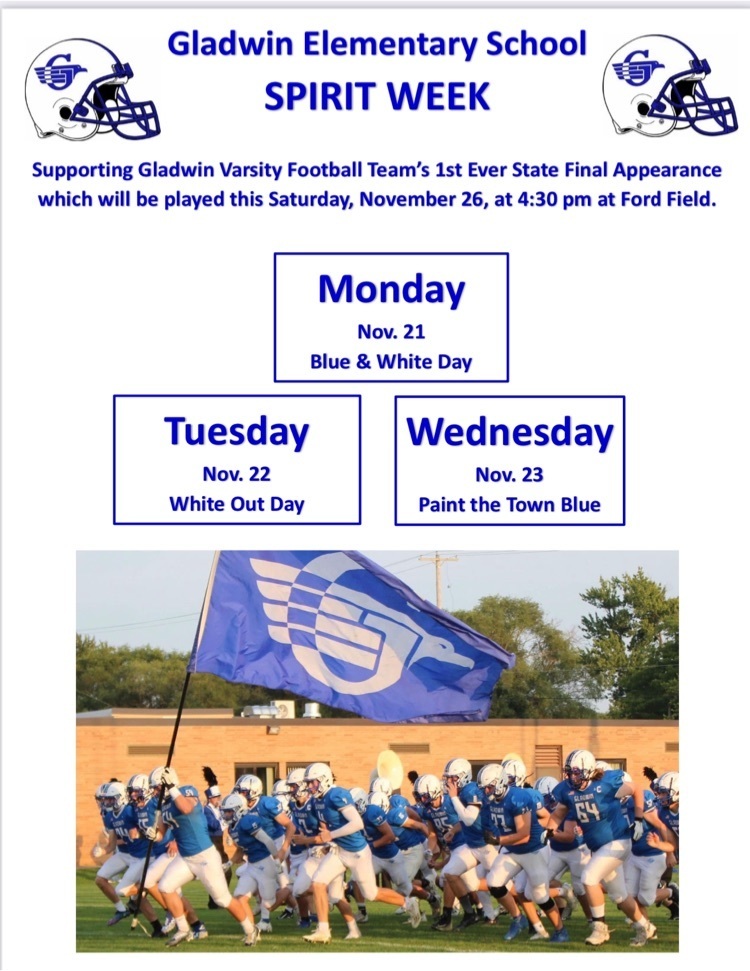 Just a reminder that we have half days the next two days, Thursday and Friday. Dismissal will be at 12:45 PM. Breakfast and lunch will be served. Also on half days there will be no SPARKS after school. Thanks and have a great rest of your evening.

Just a reminder that today is a full day of school with dismissal at 3:36 PM. We have had a lot of parents calling asking if today is a full day following the half day yesterday for parent teacher conferences. Thank you and have a wonderful weekend.

The elementary school is having a book fair October 17-21. The book fair will be from 7:45 AM to 4:00 PM in the library. Parents are welcome to come to the book fair and shop with their elementary school child. Hope to see you there!!!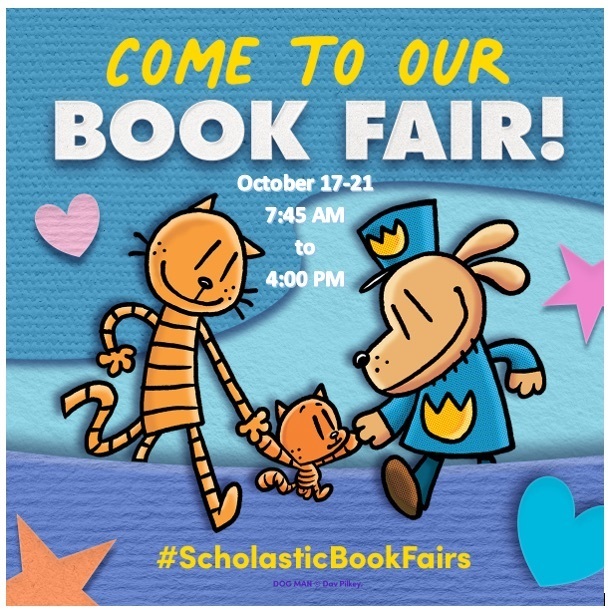 With fall weather temperatures starting with cooler mornings and warm afternoons, we want to encourage families to send students with a sweatshirt/jacket. We have lots of students borrowing sweatshirts and jackets from the school which is fine but having your child bring their own will help with the amount of kids having to borrow clothing.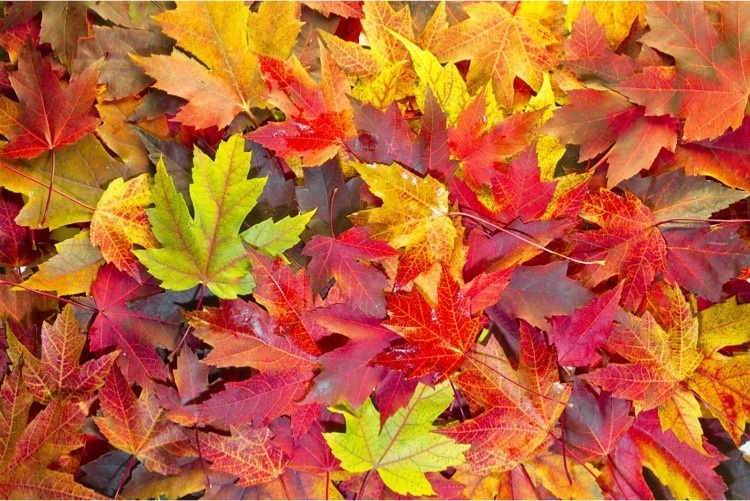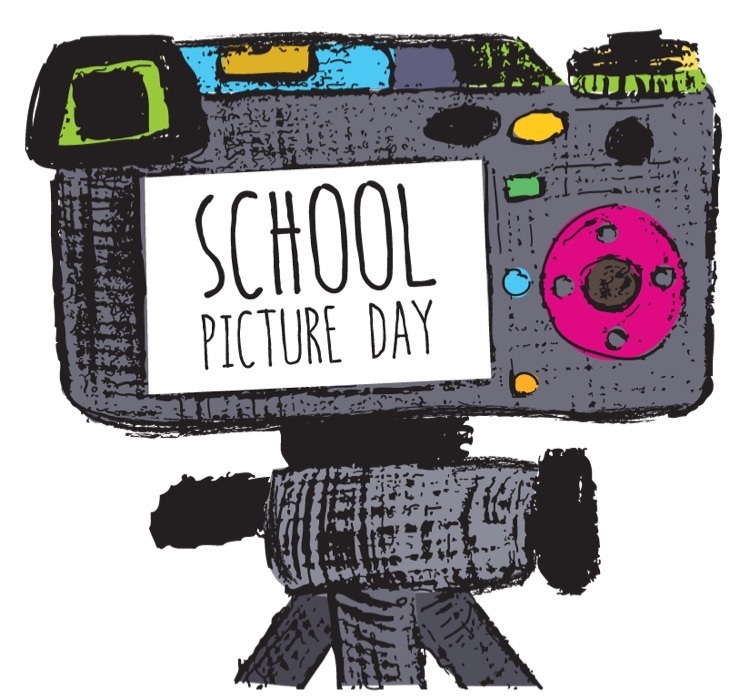 Here are our royal subjects Cruz Hair and Rylee Johnson. They will be representing us on homecoming court as the prince and princess. We are excited to watch Cruz and Rylee in the parade and homecoming halftime show!!!