Gladwin Board of Education is soliciting applications for an open board seat vacated due to a member resigning. Interested candidates may submit a letter of interest and resume to Gladwin Community Schools 401 N. Bowery Ave. Gladwin MI 48624 or
gladwinboard@gladwinschools.net
. Credentials deadline is 12/12/2022 by 8:00 am
Monday's school board workshop featured presentations from each of the building Principals on student achievement and plans for the future. The Superintendent also discussed : 1. Bids and costs for the replacement of window coverings and inter-school communication hardware in each of the schools. 2. The hiring of Michigan Leadership Institute to facilitate the search for a new Superintendent after Mr. Seebeck's retirement. During the special meeting, the Board voted to seat Brad Moore for the remainder of the term vacated by resigning BOE member Kelly Gower and to hire Mike Mieske as an an assistant boys basketball coach.
Gladwin Community Schools has a lot to be thankful for this year. Great kids, great staff and great schools. We are blessed beyond belief. Happy Thanksgiving! It's a great time to be a Flying G! Rick

Notice of School Board Special Meeting Monday November 28, 2022 at 7:00 pm Agenda Items: Appoint Board Member, Coach Hire, Workshop to Follow, The meeting will be held in the Junior High Library
Monday November 14 Board of Education Meeting Review 1. Second reading of NEOLA policy updates for Fall 2022 - approved 2. Hiring of Seth Baginski as a Junior High basketball coach - approved 3. Student expulsion hearings - closed session at parent request The next BOE meeting is a workshop at 7:00 pm on November 28th
We discovered that Flying Gs don't migrate in cold weather!

Gladwin Board of Education is soliciting applications for an open board seat vacated due to a member resigning. Interested candidates may submit a letter of interest and resume to Gladwin Community Schools 401 N. Bowery Ave. Gladwin MI 48624 or
gladwinboard@gladwinschools.net
. Credentials deadline is 11-25-2022.
Board of Education Workshop Report of October 24th This meeting was posted as a special meeting so the Board could vote on two items: Item #1 - The board voted to accept its annual audit. The annual audit was presented by a representative from Weinlander and Fitzhugh Accounting. The audit showed that Gladwin Community Schools is in excellent financial condition. Item #2 - The board voted to accept a plan developed by each building to address learning loss as a result of COVID-19. During the workshop portion of the meeting several items were discussed: Item #1- Mr Seebeck announced his intention to retire in 2023. The Board heard a presentation from Michigan Leadership Institute on the process of selecting a new superintendent. A written proposal from the Michigan Association of School Boards was given to each BOE member. This proposal outlines the process of selecting a new superintendent. Item #2 Superintendent Seebeck discussed several current and upcoming projects. Painting at High School Track resurfacing Painting at Intermediate School Roof at Intermediate School Parking lot maintenance Bus Garage and High School Security Camera Proposal Alertus Security System now operating Door Adjar Notification System Item #3 Mr. Seebeck briefly discussed the results of the Focus Panels and Community Survey relating to the Junior High bond proposal. The community participation in both the Focus Panels and Survey was outstanding and the information will be used to help make decisions and answer the community's questions. There will be continued opportunities for community input.
Good evening parents. We are still working to identify the person who made the vague threat last week. We will continue to have an increased law enforcement presence throughout the district tomorrow. We are in constant contact with local law enforcement officials and do not believe that there is any threat to the students' safety but out of an abundance of caution we will continue to enhance the security presence at each building. As always you are welcome to call me at 989 429 0610. Rick
This afternoon school administrators at the high school discovered a vague threat written on the bathroom wall. We have consulted with law-enforcement and do not believe that there is any danger to the student body. Out of abundance of caution we will have an increased police presence at all school buildings beginning tomorrow through Tuesday morning. Again, after consulting with local law-enforcement we do not believe there is any danger to the student body, however we take our students' safety very seriousIy at Gladwin Community Schools and will be responding to this threat by increasing the law enforcement presence throughout the District. It is possible that officers will search student backpacks and other bags upon entering the buildings, so plan accordingly. An investigation is ongoing and the person responsible for the threat will be identified and prosecuted to the fullest extent of the law as well as being held accountable through the schools disciplinary process. As always, feel free to call me at 989-429-0610 if you have any questions or information about this situation. Rick
The first week of the 2022/23 academic year is in the books! It has been great catching up with all of the kids. Our preliminary student count looks very strong as we continue to welcome new Flying Gs to the District. I'm happy to report that despite the statewide teacher shortage, we are fully staffed with the single exception of a high school English position that is currently being taught by Jane Wetmore, a Flying G who came out of retirement to help us out. The students will benefit from Jane's wealth of experience and background in teaching literacy. Take a moment to visit each schools "Feed" on this app to be introduced to all of our new staff including Gatsby the Elementary school's new therapy dog. Ever wonder who works at the school? Check out this year's Flying G family portrait! Who do you recognize? Gotta love all that blue and white!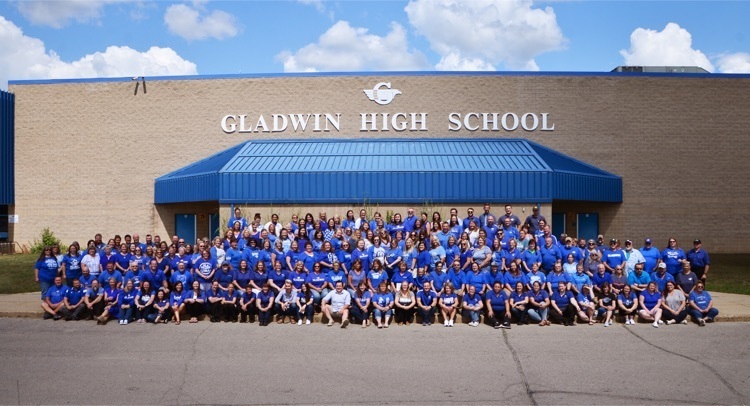 Welcome to the 2022-23 academic year! Our staff have been working hard all summer to get ready for the return of students. Teachers and principals have been training in the latest instructional methods to ensure that Gladwin Community Schools continues its legacy of being a top performing district. Maintenance and custodial staff have accomplished an unprecedented amount of work to keep our facilities top notch. Transportation has been preparing new buses and our food service department has spent the summer upgrading their kitchens. In my 18 years of being your Superintendent, this has been one of the busiest summers I can remember! As a community you can be extremely proud of your school system and the work we are doing on behalf of our kids. Gladwin Community Schools continues to grow and prosper and our students continue to perform at the highest levels in our region! We are very excited to be adding new programs and new staff to meet the needs of your kids. Just this year alone we have added 13 new teachers. Please accept my sincere thanks on behalf of Gladwin Community Schools for all of your support. It is because of this awesome community that our staff and students are able to accomplish such amazing things. There simply has never been a better time to be a Flying G! With Flying G Pride! Rick