Book Fair week. Students will have a couple of opportunities to get to the Book Fair with their classroom. You are welcome to come in and take your child also. It will be open during Bedtime Stories with Santa also. We will also have dress up days this week. Monday – Candy Cane Day (wear Red and White), Tuesday – Ugly Sweater Day, Wednesday PJ Day (wear your favorite PJ's), Thursday – Christmas Vacation (either from the movie or as if you're going on a vacation over the holidays), Friday – Santa Hats and Crazy socks. Book Fair closes Friday before 11:30. We are collecting new and like new toys for Stuff the Bus/Christmas Kindness in our community. Thank you to those of you who have already brought items in. Help us help those who are in need during the holiday season. Thank you for sending in your RSVPs for Bedtime Stories with Santa. Come in and See Santa and visit a classroom and listen to holiday stories being read to you and your children. 5:30 – 7:00 Wednesday at the Intermediate School. Popcorn Sale this Friday. Have a great week. Take Care Mr. Cote
Congratulations to our Varsity Football Team on winning the State Championship. Outstanding! Congratulations to all who helped them get there. This week we are back to having a full week of school with full days. The next scheduled day off is December 20th which begins the Christmas Break for our students. Back to school on Wednesday, January 4th. Popcorn Sale Friday, Blue and White Day on Friday. Have a Great Week. Mr. Cote

Spirit weeks as we take on Frankenmuth at Ford Field for the Division 5 State Championship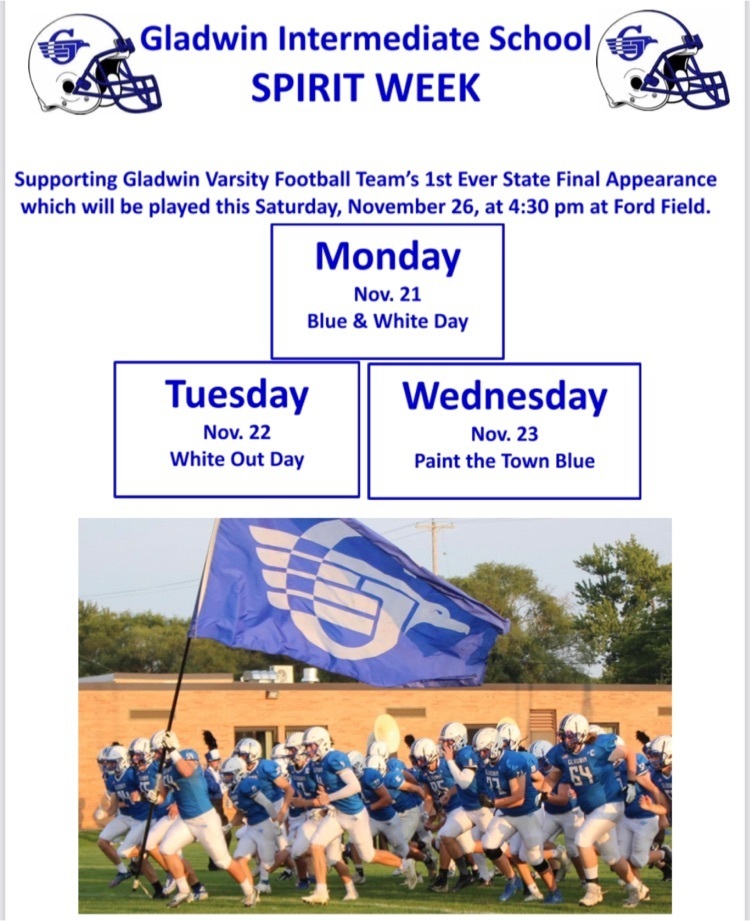 We are proud of our Varsity Football Team headed to Ford Field this Saturday to compete for the State Championship. We are showing our support and school spirit this week by wearing Blue and White on Monday. Tuesday will be a White Out by everyone wearing White. Wednesday is Paint the Town Blue by everyone wearing Blue. Good Luck to our Flying G's. Wednesday is a ½ Day of School. Dismissal is at 12:45. This starts our Thanksgiving Break. No school on Thursday and Friday. Have a great week. Mr. Cote
Picture Retakes are tomorrow. If you are in need of retakes, bring your previous pictures in. If you missed picture day, you can get yours taken tomorrow morning. No School Tuesday. Deer Day. Be safe and good luck. Popcorn sale Friday. Blue and White day Friday. Have a great week.
Thank you for participating in sending in the Wall of Honor pictures and pages. We are thankful of the dedication, commitment and sacrifice that our Veteran's and Active Duty members of our military has a demonstrated. Please enjoy our Veteran's Assembly. Here's the link:
https://youtu.be/hel0nKhR2hw
Happy Veteran's Day
This Thursday and Friday are ½ days also.  November 10th and 11th.  Dismissal will be at 12:45.  Teachers will be participating in Professional Development.  This Thursday we will have specials but we will have Friday's specials on Thursday.  If a student normally had gym on Friday, they will have gym on Thursday this week instead of their normal Thursday special. We are asking all our students to wear RED, WHITE, and Blue on Tuesday this week.  We will be recording our Veteran's Tribute on Tuesday morning.  As soon as we get it all put together, we will post it on our school APP for all to see and enjoy.  We hope our Veterans enjoy it. School pictures were finally delivered to our school on Friday afternoon.  We will pass them out to the students to take home tomorrow, Monday.  Picture Retakes are Monday, November 14th. No popcorn sale on ½ day Fridays. Friday will be a Blue and White Day. Have a Great Week. Mr. Cote
Thursday and Friday this week are 1/2 days of school. Dismissal at 12:45. No SPARKS on 1/2 days of school.
Happy Halloween.  I hope everyone has a safe and happy Halloween.   Report Cards were sent home on Friday.  Please keep the report card, but sign and return the envelope that the report card was sent home in.  We are planning to use the same envelope for the remainder of the school year. Please take a look at the attached picture.  It is of the Wall of Honor.   We have a lot of space to fill up.  Please send in your Wall of Honor Hero form so we can get it posted.  If you need another form, please ask your teacher. Thank you for the great work of collecting and turning in the fundraiser money.   This Thursday and Friday are ½ days of school.  Dismissal will be at 12:45.  Thursday, November 3rd is for 6th – 12th grade Parent Teacher Conferences.  Friday is due to the fact that the teachers worked a day and ½ on their Parent Teacher Conference day.  Enjoy the shortened days. Friday will be Blue and White Day. Have a great week. Mr. Cote

Ms. Voorheis students are learning the importance of reading fluency. Reading everyday makes a huge difference in your students achievements📚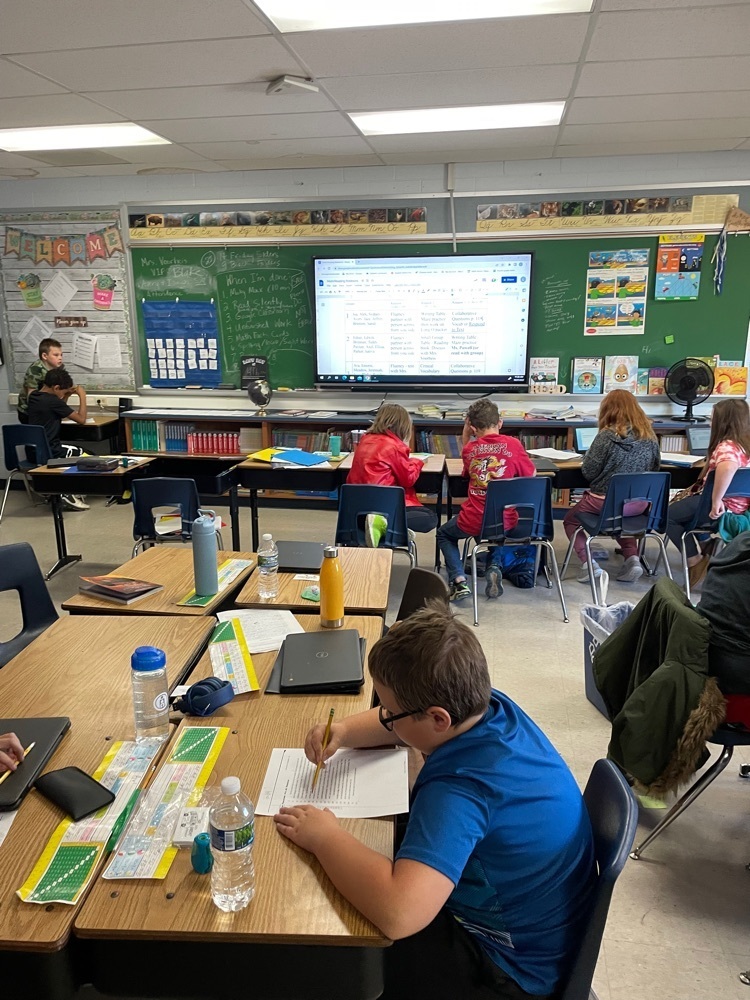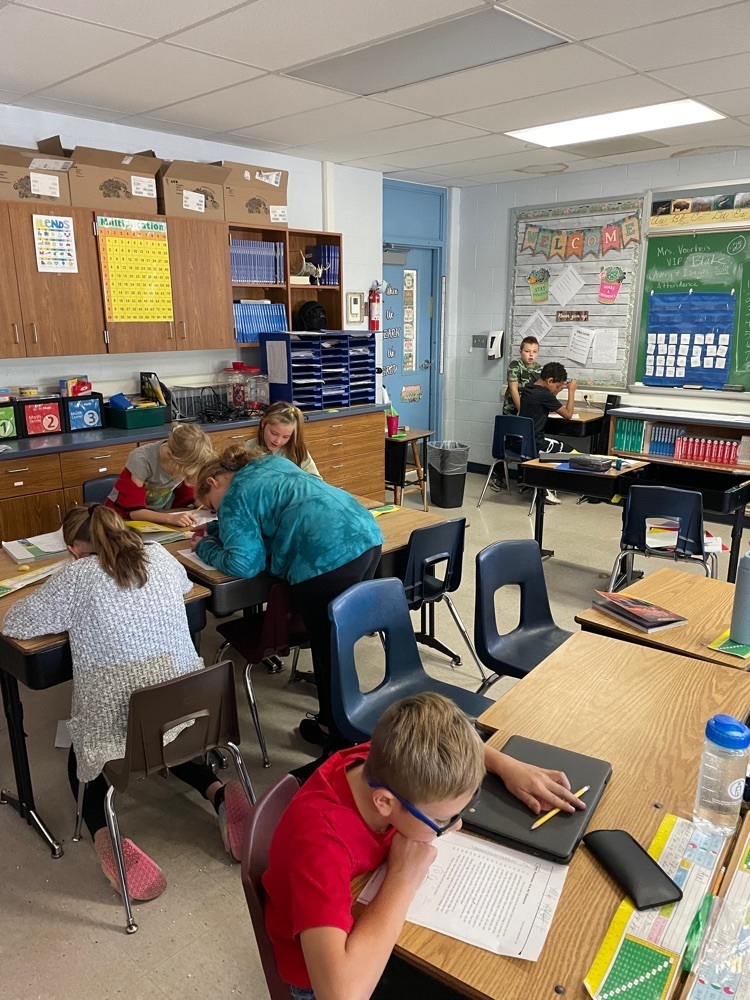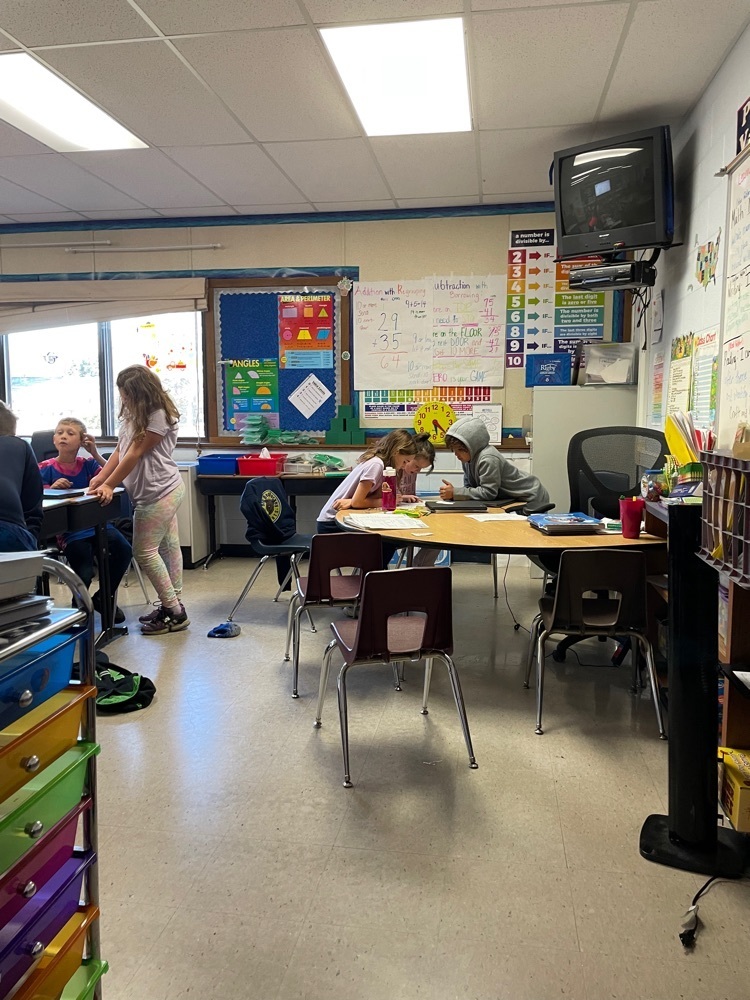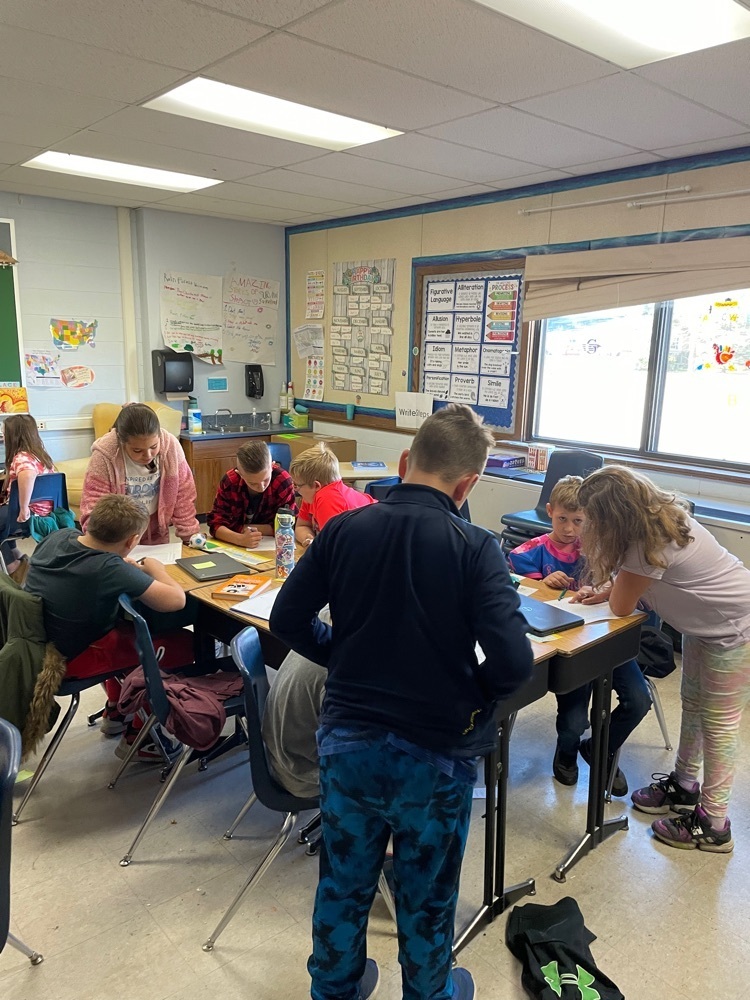 If you're wanting to email the WALL OF HEROS paperwork to Mrs. Berthiaume, please use the following email address and it is incorrect in the letter,
msberthiaume@gladwinschools.net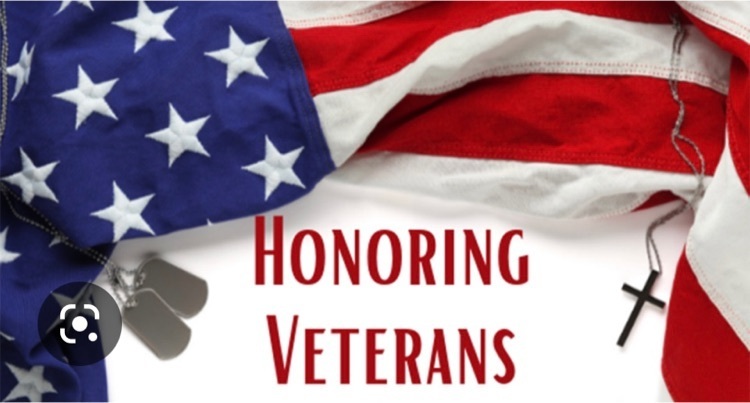 Thank you for the great participation in our Fundraiser. Many students have turned the money collected already. The money yet to be collected is due this Friday. This Friday we sent home in Friday Folders a Veterans Day Wall of Heroes. Please take a look a it, fill it out and return it to school. We are putting together a special project for Veterans and we want your Veteran Hero/Active Duty Hero to be recognized. A reminder for your calendar; November 3rd and 4th are ½ days of school for 6th – 12th grade parent teacher conferences. Halloween Parties will be celebrated on Monday, October 31st. Report Cards will be going home this Friday. Please sign and return the envelope indicating that you received the report card. Keep the report card. This Friday is Blue and White Day. Popcorn Sale this Friday. Have a great week. Mr. Cote

It's always an honor to see the students who have moved onto other buildings. Today they honored some staff members with their jerseys and a nice letter. We appreciate you taking the time out of your busy day to honor us. Best of luck at your football game tonight. Flying G Proud!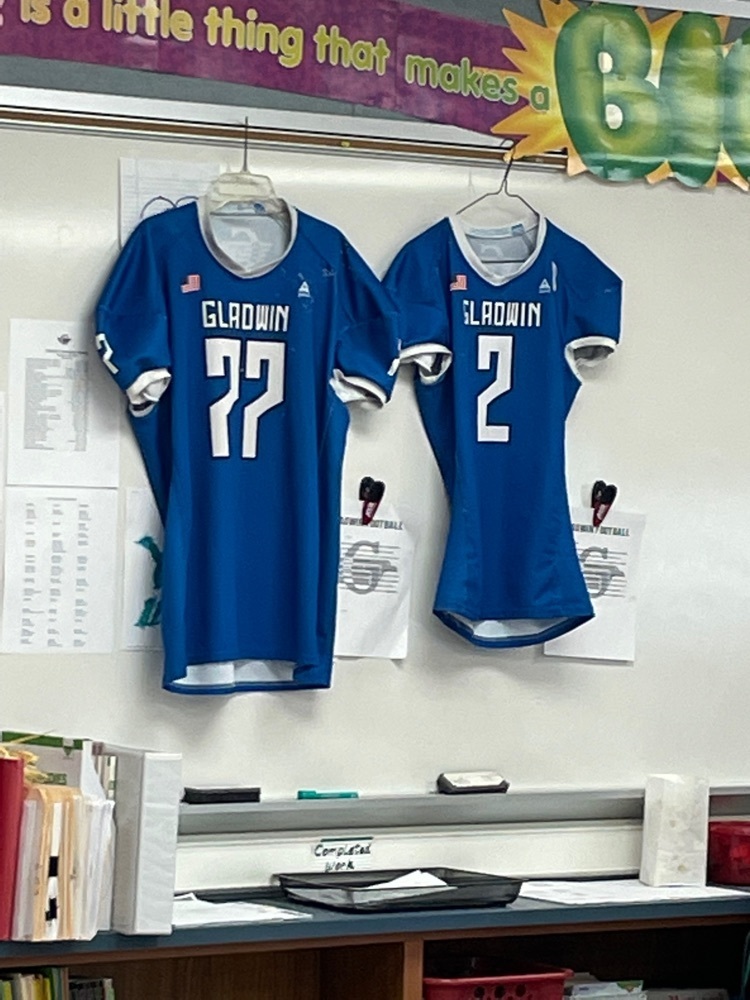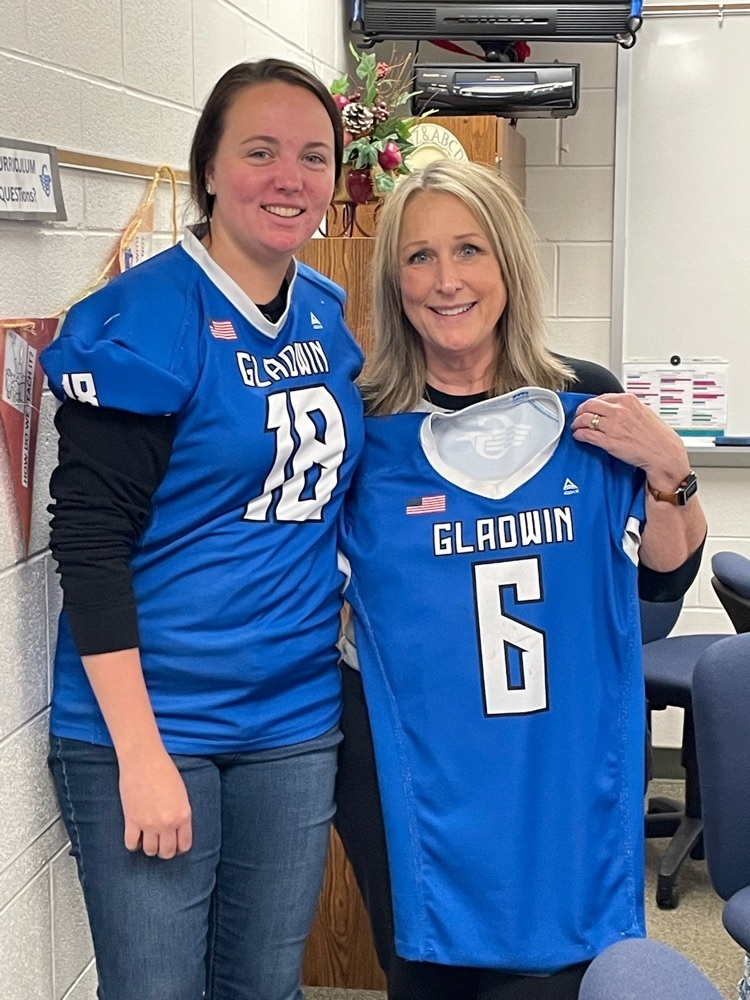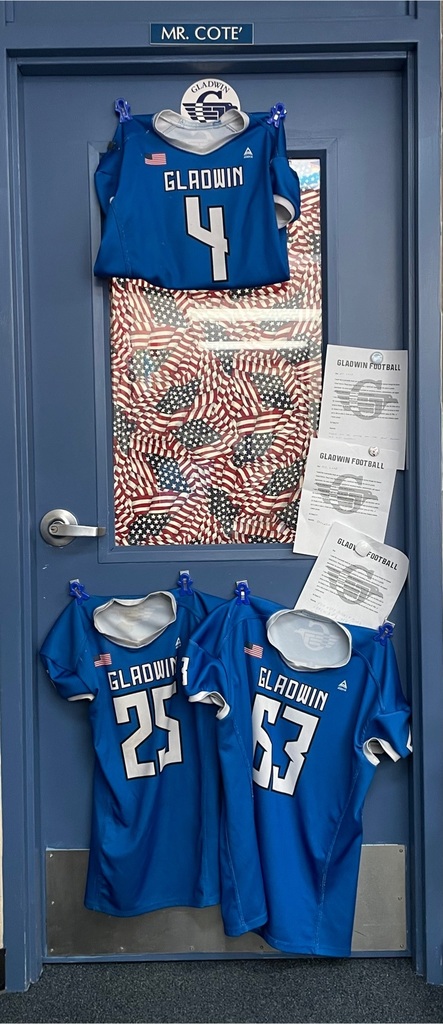 A BIG THANK YOU! for everyone participating in our Red Ribbon Canned Food Drive. We collected nearly 5,000 items to be donated to our local food pantry. The students did a great job and were very excited to exceed our goal. We had fun at the assembly. The Sumo outfit had the students excited. Congratulations to Mr. Lake's class for winning. If you'd like to see some pictures of the event, down load the Apptegy App for Gladwin Community Schools. Search for Gladwin Community Schools in your app store. It's free. It has the Flying G logo. This week we will be beginning our grade level meetings with students in the morning. Meetings will begin at 8:00 AM in our Gym. When students arrive at school we will direct them to get their breakfast if they plan to eat here and head to our gym. I will discuss with them some up coming events, some behavioral improvements, and teachers will recognize a student or two from each class for either Academic or Behavioral successes. 5th Grade will meet on Tuesday, 4th grade on Wednesday and 3rd grade on Thursday. If your child rides a bus, they will arrive on time. If they are a walker or drop off, you will want to make sure they arrive prior to 8:00 on their meeting day. This Friday is Blue and White Day. We will have a popcorn sale on Friday also. Have a great day. Mr. Cote

Today we ended our "Red Ribbon Week" with a school wide assembly. We would like to thank everyone who donated a can or 500 cans. Every can counts! Teaching our students the importance of a DRUG FREE life is important to of us! A huge thank you to Ms. Kristy for all you do in organizing this important events of the week.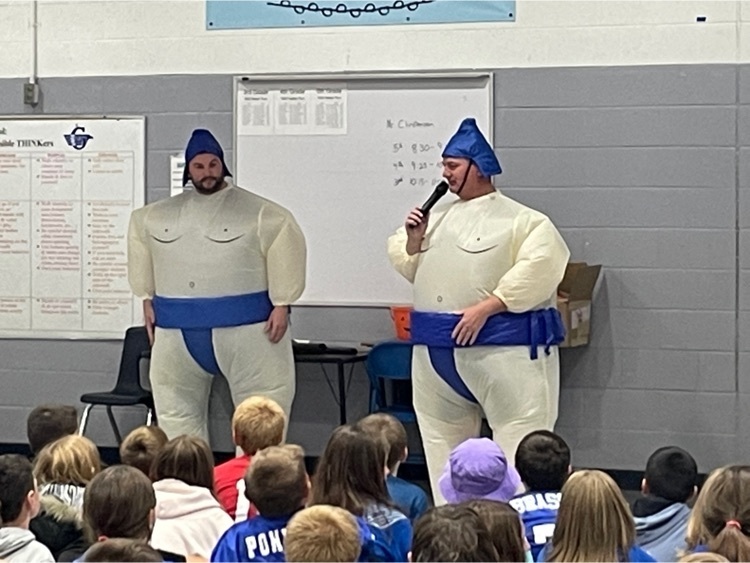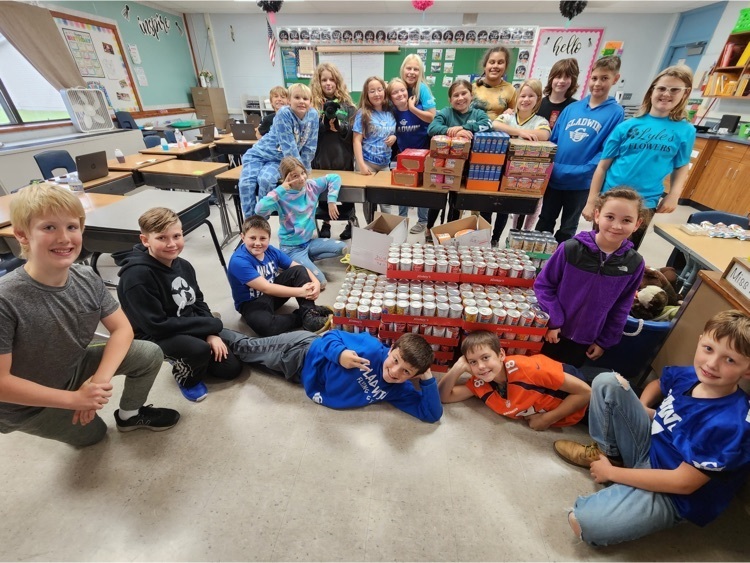 Red Ribbon Canned Food Drive. We will be collecting items until 2:00 today. Ms. Breault's class is in the lead as of yesterday at the end of the day.
Fundraiser delivery. Unfortunately the delivery truck didn't arrive before the end of the school day. Hopefully it will show tomorrow. I apologize for any inconvenience.
Tomorrow is picture day. Remember your picture envelopes. Fundraiser items will be delivered tomorrow We are still shy of the 1500 canned good goal for this Friday. No Sumo outfit for me unless we reach our goal.
Dear Families, The week of October 10-14, 2022, Gladwin Intermediate School will be celebrating Red Ribbon Week! We will be following the schedule listed below. These daily themes are meant to be reminders to students of the importance of living a healthy life and making safe choices. Red Ribbon Drug Awareness Week October 10-14, 2022 Monday WEAR RED DAY! Be "Red"-y to Live a Drug Free Life! Dress in Red today to show your support for a drug-free lifestyle! Tuesday PEACE OUT/TIE-DYE DAY! Don't get "Tied" down by drugs. Wear your favorite tie dye clothing and peace out attire to show your willingness to be drug free! Wednesday DRESS YOUR BEST! Present your Best Self and Pledge to be Drug Free! (Remember it's picture day as well!) Thursday CAMO DAY! Be a "HERO"- Join the fight against drugs! Wear camouflage clothing today to Help Encourage and Respect Others to make the choice to be DRUG FREE! Friday TEAM UP AGAINST DRUGS! Wear your favorite team sweatshirt or jersey to show you're teaming up to fight drug use! In coordination with Red Ribbon Week, we will be collecting canned goods to make a difference in our community. Whether students bring in one can or 1500, this is a great opportunity to be good citizens and help others in need. All collected canned goods will be donated to local food pantries to benefit local families. Our theme is…….. SUCCESS COMES IN CANS – "I CAN" . . . "YOU CAN" . . . "WE CAN"! The top collecting class will enjoy a pizza party! If our school reaches our goal of 1500 cans, Mr. Coté has agreed to wear a Suma Wrestler Costume for our Red Ribbon Assembly! The Red Ribbon Assembly will take place on October 14th to celebrate all the food we collect and everybody's promise to stay drug free. Let's Go Gladwin! Thank you in advance for your support and participation!
Picture Day is this Wednesday.  Individualized picture envelopes were sent home with students.  If by chance you miss placed your envelope, you can pick one up at our main office.  Pictures will take place in the AM.  We are normally completed before lunch time.   Fundraiser orders will be delivered on Wednesday.  We will deliver the orders to the students in their classrooms.  If your child has a large order, you will want to make arrangements to have the orders picked up at school instead of attempting to carry it all on the bus.  The orders have been delivered to our school shortly after lunch in the past. This week is Red Ribbon Week.  We will emphasis living a drug and alcohol free lifestyle.  We like to teach our students to do positive things instead of doing drugs.  We are having a canned food drive for our local food pantry.  Our goal is to collect 1500 canned food items.  If we reach that goal, I will have to dress up in an inflatable Sumo Wrestler outfit for the Red Ribbon Assembly.  There's also a class competition to see which class brings in the most canned goods.  Rally your friends and family to help us meet our goal of 1500 canned food items.  Attached is a flyer that has our dress up days for Red Ribbon week. We will have a popcorn sale this Friday. Have a great week. Mr. Cote